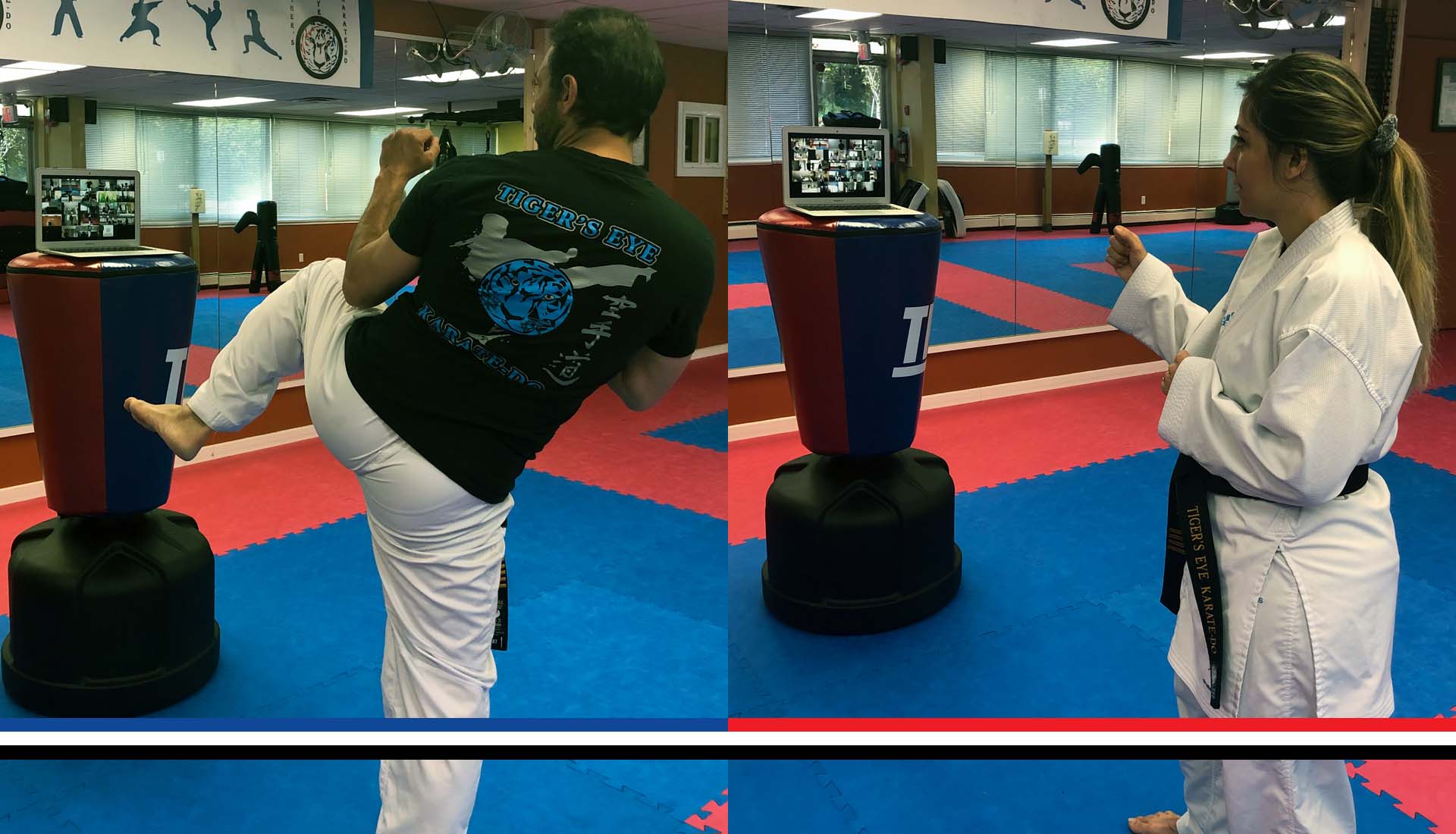 Tiger's Eye Karate-Do Martial Arts Academy is now offering live online classes for all ages abilities.
With children and adults isolated at home due to the coronavirus (COVID-19), Academy find an opportunity to help children and parents keep them physically active while having fun.
Our goal at Tiger's Eye is to use martial arts as a vehicle to inspire kids and parents to be more confident and focused in their daily activities.
Tiger's Eye Karate-Do Academy is currently offering a free online orientation to help get kids started.
Visit here for more information.
Tiny Tigers (Ages 3-6)
At Tigers Eye Karate-Do, we believe that the period between ages three and six are the most important years of your child's development. By starting karate at a young age, children are taught skills that will be useful throughout their whole lives, such as discipline, focus, balance, coordination, teamwork, and respect.
Certified Black Belt Instructors Hana and Hamid will help your child develop a solid foundation for life-long karate practice, form long-lasting friendships and most importantly, enjoy each and every class.
Classes are offered:
● Monday, to ,Saturday Online

For more information and a FREE TRIAL class please contact us at 604-765-9746 or email us at This email address is being protected from spambots. You need JavaScript enabled to view it..
Youth (Beginner & Advanced)
Our Youth program will help students achieve:
● Self discipline and motivation
● Responsibility
● Respect & honor
● Increased strength & flexibility
● Increased coordination, control and balance
*The youth program is separated by ability. Youth can start at any time - beginner classes are for belts yellow and orange; advanced classes are for green belt and above.
We provide a safe and encouraging environment for youth to develop and improve their abilities. Our goal for each and every student in our Dojo is to make them the best that they can be and enable them to reach their full potential. Goal setting, responsibility and fun are introduced by testing for higher levels and maintaining consistency in attendance.
Our club is registered with Karate BC, which provides us with the tools and resources to help achieve further knowledge of karate. This opens doors to different tournaments that can lead to provincial, national and even international competitions.
For more information and a FREE TRIAL class please contact us at 604-765-9746 or email us at This email address is being protected from spambots. You need JavaScript enabled to view it..
Youth (Beginner) Classes are offered:
● Monday, to ,Saturday Online
Fitness & Cardio workout
Our Martial-Arts Cardio Classes are fun and high energy - get ready for a total body workout! Using weights and body resistance, our Certified Martial Arts Instructor will guide you through exercises designed to tone, strengthen and get you fit! The movements are simple but practical and the kicks and punches are highly effective self-defense techniques.
The high energy music and an enthusiastic instructor will keep you going, throughout the total body workout! Kick butt and burn up calories.
All levels are welcome. Whether you are just starting out or already fit as a fiddle, these classes will challenge you to reach a new level. Get your body pumping and join us for a class of full body-sculpting exercises and high-energy cardio!
Classes are offered:
● Monday, Wednesday and Friday morning and Tuesday and Thursday evening Online
For more information and a FREE TRIAL class please contact us at 604-765-9746 or email us at This email address is being protected from spambots. You need JavaScript enabled to view it..